Dear 2 year old HTC phone
We've had some good times, you and me, but I'm finally sick of you not letting me send e-mail even though you can receive them, changing the time by half an hour at the most inappropriate times, refusing to set the alarm off in a morning and generally being a pain.  I'd really appreciate it if you could try and work nicely, just until I can get a nice shiny new replacement.
Yours nostalgically, Emma
——————————
Dear internet
*Please* get it together.  I'm really fed up of not being able to use the laptop at the same time that M wants to go on the playstation and I'm getting rather bored of turning the router off and back on again 4 times every evening. We've just paid £50 to have a man move the phone line into the living room and I just might scream if it doesn't work.
Yours hopefully, Emma
——————————
Dear Readers
This is my first 'Dear So and So'.  I've enjoyed it & think I might do it again.
Thanks for reading, Emma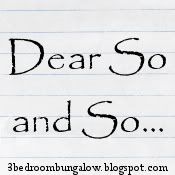 ---
---