I've written before how much of a daddy's girl C is and I'm fairly certain that she is his number one favourite person in the world.  I love watching the 2 of them together, they simply adore each other.
So C, here are 5 things I want you to know about your Daddy:
When I was pregnant, Daddy was adamant you were going to be a boy.  He even went so far as saying if you were a girl you were going back until you'd grown the right bits.  Don't worry though, from the moment he saw you he was completely smitten.  He even says he wouldn't mind if we gave you a little sister.
Even though he is not a touchy feely man, he adores your cuddles and kisses.  He quite enjoys your wrestles too.
Don't laugh at him when his projects start to go wrong.  He doesn't like it and despite us thinking it's very funny, he will have a tantrum.
Although he pretends it annoys him, he secretly loves the fact that you always want him to take you to bed at night.
Daddy will do anything for you and loves you more than anything in the world.  Never forget that.
This post is written for The Friday Club carnival over at Notes From Home.  It's actually the first time I've joined in but it was a topic I just couldn't miss!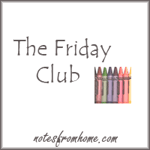 ---
---