As of today I'm 17 weeks and 3 days pregnant.
For the past week or so I've been wondering if I've been feeling baby move but I couldn't say for sure as it could have just as easily been wind!
They say you feel baby earlier with each pregnancy but with C I had an anterior placenta so that was between her and me which cushioned any movement.  This meant I didn't feel anything until I was past 21 weeks, and it meant I missed out on the flutters so just felt definite kicks once she was stronger.
I've been hoping that I wouldn't have to wait as long before I felt anything this time and today I have felt definite movement!  I can't really describe what it feels like, other than it's pretty amazing!
They've been happening on and off all day while I've been sat at my desk.  It's such a wonderful feeling and even though I've done this all before it doesn't make these moments any less special.
So, so happy!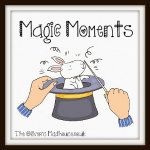 ---
---