Sometimes the best days are those totally spur-of-the-moment days out, where you go from being sat at home, wondering what to do, to being on your way in a matter of minutes.
This happened to us this weekend.  It was Fathers Day and, while delivering my dad's present, we were discussing with my parents whether the weather was going to hold long enough for us to have a barbecue that afternoon as we'd planned.  My dad suggested a drive out to Matlock bath instead and within about 20 minutes we were all in the car and on our way.
We managed to park eventually (it was rather busy!) and wandered towards the town centre.  We crossed the river and let C, and grandad, have a play on the park before carrying on our stroll down towards the pond and the fountains.  We were all getting hungry by now so called in a pub near the mining museum for some lunch.
It was busy so lunch took a while but it was nice to all sit round a table and have a chat and a drink.  The food was fantastic when it did arrive too.  We decided ice creams were needed afterwards so went to one of the many shops that sold them along the main road.
We continued back along the road this time, admiring the hundreds of motorbikes that were parked up, before making our way back to the car.  Our day out wasn't quite over though, we called at a lovely pub in a hamlet close to where we live for a drink on the way home (and some homemade parsnip crisps).  There happened to be a WW1 demonstration going on in the pub garden so my dad went down and got involved with that for a while.
Finally we decided to go home and end our lovely day out.  We all enjoyed ourselves and not because we'd done lots of organising or spent lots of money, just because it was nice to spend a day out with family.
Linking up with #MagicMoments at The Olivers Madhouse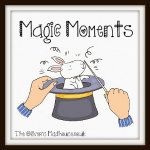 ---
---